A point of sale signage or point of sale display (POS signage or display) is a type of sales promotion. Unlike other forms of marketing, POS signage involves displaying products on or next to transactional purchase areas. POS signs are most effective when utilised for displaying or promoting convenience goods.
An Overview of Point of Sale Signage and Impulse Buying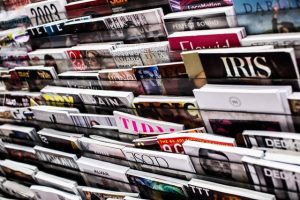 Maybe you're wondering, "how can POS display influence impulse buying?" Installing these displays primarily helps to draw your customer's attention to products and offers. In this way, you encourage and motivate them towards making an impulse purchase.
There are many forms of POS signages, such as:
Lightboxes
Floor displays
Shelf-based talkers
Counter-based displays
What Products Should Be On Your Point of Sale Display?
While you can show any product on your POS sign, consider displaying convenience goods to get the most of your advertising efforts. Popular examples include:
Souvenirs
Items sold in bulk
Tobacco and lighters
Chewing gum
Soft drinks
Novelty products
Comics and magazines
Lollies and chocolate bars
How to Create Impulse Purchases via POS Signs
Generating impulse buys using POS signs shouldn't be as difficult as it seems. Here are a few ways to make your POS signages effective for creating impulse purchases:
Ensure to display affordable convenience goods on your POS displays.
Ensure your POS signs are visually exciting. Use contrasting colours to enhance visibility and be creative with the design of your POS displays to make them stand out and grab customers' attention.
Include promos and encourage customers to take advantage of the special deals. For example, Buy One, Get One Free (BOGOF) deals are effective in creating impulse buys at transactional purchase areas.
Now that purchasing on impulse is driving so much revenue, how else can you leverage POS displays to boost your conversations at the sales point? Here's a detailed discussion plus the latest research on how your POS signage can generate impulse purchases.
Leveraging Point of Sale Signage to Drive In-Store Impulse Purchases
Worldwide studies on impulse buying are showing astonishing figures. For example, 65% of respondents in a UK survey, where in recent years impulse purchases totalled £21.7 billion annually, said that in-store advertising had the most influence on them. Another 29% quoted the product's strategic location as the most influential factor. And 72% of shoppers at supermarket queues make impulse purchases, besides other retail stores.
Statistics in the United States are not different either. A study revealed that during the coronavirus pandemic, 41 percent of consumers are making the same number of purchases on impulse in-store. Another 21 percent are making more impulse in-store purchases.
Impulse Buying as Retail Therapy

Purchasing on impulse is a form of retail therapy, which your point of sale signage should help to emphasise. Terming it as self-care, consumers are using impulse buying as an avenue for achieving self-gratification during the pandemic. For example, 35% of Americans are reporting that it helps them cope with COVID19 stress and take back control of their lives.
Even so, the therapeutic aspect of impulse purchases isn't a new concept. There are plenty of psychology publications, extensively discussing how buying on impulse is tied to a batch of factors. One of the psychology sources analysing shopper habits during the coronavirus pandemic mentions several impulse-buying influencers, including:
Personal well-being
Characteristics of the consumers
Tactical placement of in-store marketing signs and products
The Rationale Behind Point of Sale Signage
Using POS signages helps to trigger a problem recognition response in your clients. It's the reason you should display items that are not on a customer's top-of-mind. Apart from providing visual exposure to products, you're reminding the consumer that they need a particular item to solve a problem. By capturing a customer's attention, POS displays lead people to buy on impulse.
Let's use the example of a truck driver who stops to refill his fuel tank. He receives exposure to a POS display when making a $50 payment at the transaction area. He sees a pack of gum on a digital POS signage, instantly triggering a problem recognition stimulus – do I have foul breath? Impulsively, he includes the gum packet in his purchase.
How To Incorporate In-Store POS Signage Advertising Technology To Boost Impulse Buying
Understanding impulse buying from a promotional perspective is vital to running an effective POS signs campaign. Note that POS display essentially relies on the 4P's of marketing, comprising:
Product
Price
Place
Promotion
So, you should approach it with an advertising rationale.
Getting point of sale signs that can detect people and their behaviour, age, body language, and gender in-store is an added advantage. It would go a long way to boost conversions via impulse buying in the transactional area when it matters most to your retail business.
Here is how:
a) Audience-Targeted Content Triggers
Get real-time anonymous audience insights, including screen viewing time, gender, age, body position, and others using smart signages. Latest signage designs come with pre-built sensors in the digital screens to detect shoppers' body language in the real world. A smart POS signage will trigger an advert, promo, or other content relevant to the profile of the person facing the screen.
For instance, if a 41–55-year-old female is shopping next to or in front of the screen, an advert for low-fat yoghurt will come up. Remember that impulse buying depends on personality, demographics, 4Ps of marketing, and emotion. Therefore, this type of real-time targeting via digital signs improves ad viewing time and audience reach, consequently increasing in-store sales. SPAR, a multinational grocery retail chain, recorded a 10.5% increase in sales for all products advertised using digital POS signage.
b) Find Out Real Impulse Buyers in Your Store
Studies on who impulse buys when, where, and how, varies by location, industry, and recently, unprecedented global occurrences. This research offers useful insight into different demographics' shopping patterns so you can make solid business decisions.
However, the most accurate data you can rely on for your retail business is the one that your clients provide in-store. The reason is that the audience that could be steering impulse sales for one retailer may not be the same one for you. The sure bet to discovering the shopping habits of your customers in-store is to get a technology that reports it to you. And when it comes to real-time consumer metrics, a smart point of sale signage is hard to beat.
The Bottom Line
The customer journey is no longer straightforward. Remember to target them on the internet based on their browsing history and preferences. Some of those targeted-ads might convert in-store, especially with motivation from a well-designed, digital point of sale signage.
Most importantly, the timely positioning and marketing of products with certainty and to the right in-store audience will solidify your marketing mix and increase conversions at the point of sales.