Going back to work amid the Covid-19 pandemic is a concern for many businesses. Installing protective reception screens ensures that both your customers and employees are safe.
Operating normally at the workplace isn't easy, especially when many restrictions are put in place by the government and the World Health Organization (WHO).
This post will walk you through what protective reception screens are and how they can help protect your employees and customers during this pandemic.
What Are Protective Reception Screens?
Protective screens are equipment used in commercial and retail setups to create barriers between customers and employees.
They have become more popular during the Covid-19 pandemic. Besides being cost-effective, below are other benefits you can get from installing protection screens in your business.
Importance of Protective Reception Screens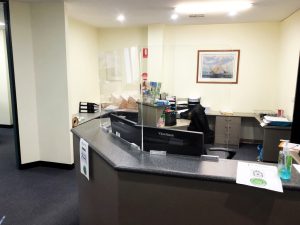 There are plenty of benefits that make the execution of protective reception screens beneficial. Here are a few advantages of installing a reception screen protector:
1. Provides Protection Against Covid-19
While many Covid-19 put in place, protective screens offer additional protection to control the virus from spreading. By implementing these reception screens, your staff and customers are reassured of their safety.
2. Easy to Clean and Maintain
Protective reception screens are made of plastic components that are easy to clean and disinfect using a mixture of mild detergent diluted with water. Always make sure to dry the screens completely. Otherwise, you'll have to adjust your cleaning schedules to put up these reception screens.
3. Offers Eye Protection
Suppose you're in a business setup, such as in hospitals, agricultural facilities, you may need protective screens to offer a barrier from sprays and droplets. Many businesses will not consider eye protection as a priority. Still, you must have protective screens if you're in a business setup, such as those listed above.
4. Allow For Agile Working
The advantage of protective screens is that they allow you to control where you'll need to fit the screens. Depending on your needs, you can reposition the screens to where they are required. Besides, you can remove or move the screens during important meetings or when you're creating new workspaces for your new employees.
5. Quick to Install

Because they are lightweight, protective screens are simple to set up—so no experience or skills needed. You should have a drill and screws you'll use to fit the screens, though the process could be much faster—10 minutes if you have someone to help you. While fitting these screens, you shouldn't disrupt your operations.
Common Applications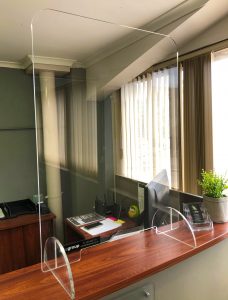 There are many places where protective screens can come in handy. For example, you can use them in offices, hospitals, schools, factories, supermarkets, petrol stations, medical centres, local amenities, and public spaces.
Offices—Offers protection between staff sat close to each other
Hospitals—Added safety for the reception staff
Doctors surgeries—Protects the reception and dispensary staff. You can also use it in consultation rooms for extra protection.
Petrol stations—Protection for cashiers dealing with public payments
Supermarkets—Added safety for the cashiers and also the customers
Fast food chains—Helps protect workers/ customers when paying and collecting their food
Order Cost-Effective Protective Screens For Your Reception Today
We only deal in high-quality reception screens made of acrylic perspex. We know how important your employees are, and that's why we are out to help you keep them safe even as they serve your esteemed customers. So whether you're looking for protection screens or social distancing signages, we've got you covered.