Wall Graphics
The number of options available to create a stylish and modern feel to your reception or office space is endless. It's a visual feast for customers and staff when they step through the doors of your business and see wall graphics that burst with colour and vibrance.
Workspaces have never looked more inviting as wall graphics increase in popularity.  Many companies are investing in wall signage to transform boring white spaces to get the creative juices of staff flowing.
We take a look at the types of wall graphics that are available on the market. We'll discuss the different designs, colours, shapes, and sizes that will make an impact on your business and brand.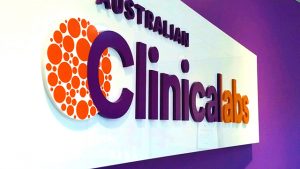 Types of Wall Graphics That Make an Impact: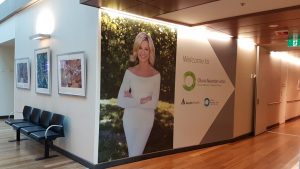 Wall Decals and Stickers
The beauty of decals and stickers for the wall of a business is that they can be applied to almost any type of surface. In terms of design, quantity, and size the options are only limited by your imagination. With the growing popularity of digital printing, the turnaround time to produce wall decals and stickers is very fast. Also, they are an affordable option for showcasing your business, brand, products, and services.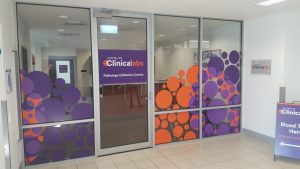 Digital Printing
When it comes to wanting a simple yet effective look and feel for your office or reception wall, digital printing is a very flexible signage option. We can colour match PMS colours to your brand to replicate a logo or corporate message. The colours that are produced from digital printing on walls are incredible, as images, shapes, and sizes come alive and appear very lifelike. because so much detail can be captured in the print.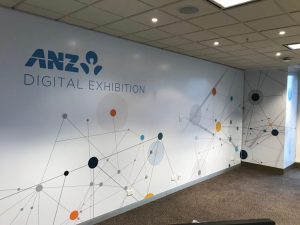 Large Format Printing

If you are looking for signage that stands out amongst the crowd then this is the choice for you. Large format printing is commonly used for billboards, vehicle signage, displays for trade shows and exhibitions, for example. They are durable and weather resistant so you will often see large format prints on big wall spaces. Using the latest in print technology, this product can be printed on a variety of surfaces such as glass, metal, mirrors, so talk to our signage specialists about your requirements.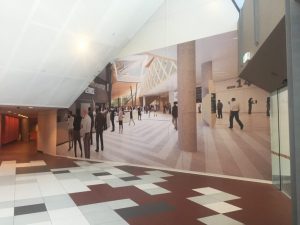 Building Wraps

You will often see building wraps used at construction sites, on fencing and scaffolding, or large office or apartment buildings. The scale of this type of signage is huge as its purpose is to grab the attention of the passerby. They can withstand any weather element and can be applied to various surface materials. Building wraps make a big impact and can be seen from distance. Typically building wraps are made from mesh or vinyl and made to the highest quality standards.
Contact us Today
When you need a creative, affordable, and fast turnaround on signage that makes the right impact then you can't go past print signage. Our team of specialists can work with you through the various options and custom-made wall graphics according to your needs. We will highlight the most intricate detail of your artwork and make sure your signage delivers the message you want to promote.
Regardless of your budget or turnaround time, NGS Group is dedicated to turning your office or reception space into a visual masterpiece.